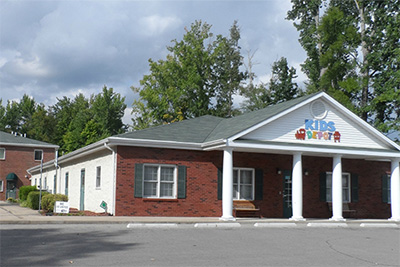 Established in 1999, Kids Depot Child Care and Preschool Program is a state licensed facility currently licensed for 185 children ages 6 weeks to 12 years of age. Kids Depot is licensed under the Department of Human Services and exceeded all of the necessary requirements to become a State of Tennessee 3 Star Rated program.
Kids Depot provides Before and After school care for elementary school age children and serves Sango Elementary, East Montgomery Elementary and Carmel Elementary Schools. Transportation is provided for school-age program attendees and field trips activities.
Kids Depot is committed to a superior quality of care. Our program was developed based on a balance of focusing on fostering self-esteem, encouraging natural learning, while concentrating on school readiness requirements. We offer a caring and nurturing atmosphere. Teachers and staff at Kids Depot provide each child with an abundance of love and attention. Smaller ratio classes expose children to more one on one learning opportunities with teachers who can direct learning. Along with child initiated and developmentally appropriate practices, Kids Depot provides an age appropriate learning environment as well as promotes appropriate intellectual and emotional growth accomplishments.
Kids Depot is located in Sango Village and open from 6 a.m. to 6 p.m., Monday through Friday. A breakfast, morning snack, hot lunch and afternoon snack are served daily.
Our Dedication
Providing a safe, warm, loving and nurturing environment for the children and their families.
Accepting and appreciating the uniqueness and individuality of each child.
Helping each child grow and reach their full potential.
Providing an environment allowing the child to learn, experiment, be creative.