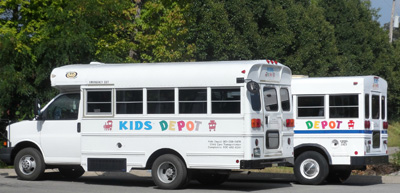 Established in 1999, Kids Depot Child Care and Preschool Program is a state licensed facility currently licensed for 185 children ages 6 weeks to 12 years. Kids Depot is licensed under the Department of Human Services and exceeded all of the necessary requirements to become a State of Tennessee 3 Star Rated program.
In addition, Kids Depot provides before and after school care for elementary school age children and serves Sango Elementary, East Montgomery Elementary and Carmel Elementary Schools. Transportation provided for school-age program attendees and field trips activities.
Kids Depot is conveniently located in Sango Village and open from 6 a.m. to 6 p.m., Monday through Friday. Each day an appropriate breakfast, morning snack, hot lunch and afternoon snack is prepared in house and served via traditional family style to each classroom.
Kids Depot Child Care and Preschool Program are dedicated to providing a safe, warm, loving and nurturing environment for our children and their families. We accept and appreciate the wonderful uniqueness and individuality of each child. Our teachers and staff help each child grow and reach their full potential. We make certain to establish an atmosphere in which will encourage each child to learn, experiment, create, explore of new ideas and be inquisitive.